China steps up efforts to protect farmland
Author: Release Time:2020.11.26 Number Of Visitors:257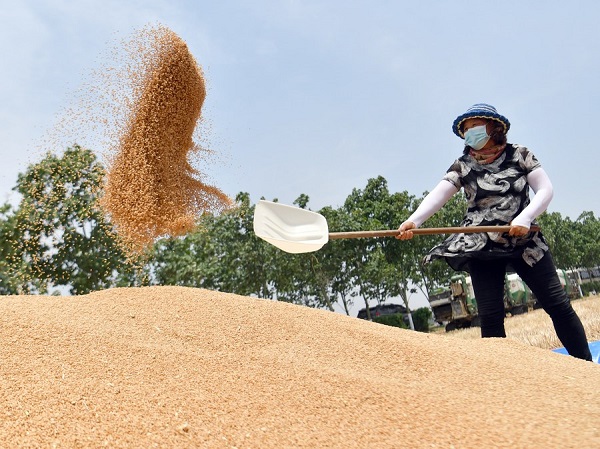 A farmer uses a shovel to separate grains of wheat from the husk in Zhangyao village of
Erlang town in Xiping county, Central China's Henan province on May 26, 2020.
Multiple measures have been taken to stop illegal use of farmland, a Ministry of Natural Resources official told a news conference on Monday.
Together with the Ministry of Agriculture and Rural Affairs, the ministry released two notices in July. One prohibited the illegal use of farmland for real estate projects and the other sought to ensure reasonable land use for housing construction in rural areas.
Since the release of the two notices, several regions have raised public awareness about the legal use of farmland through short television programs or online films in local dialects.
Inspections and law enforcement have also been strengthened in recent months, with satellite remote sensing being introduced, Cui Ying, director of the Ministry of Natural Resources' law enforcement department, said.
From July to Nov 15, many provinces saw no new reports of illegal farmland use. However, Cui said, some regions did, including Sichuan, Guizhou and Yunnan provinces.
Cui told the news conference the ministry will show "no tolerance" for such activities and urged authorities to intensify efforts to raise public awareness about farmland protection.
He said 10 provinces have rolled out specific plans to prevent the illegal farmland use, with 13 other regions, including the provinces of Yunnan, Anhui, Fujian and Hubei and the Tibet autonomous region, in the process of doing the same.
The central government has attached great importance to farmland protection, the ministry said. Those involved in the illegal use, sale and transfer of permanent farmland covering more than 0.33 hectares or ordinary farmland covering more than 0.66 hectares will be subject to criminal prosecution. Farmland in China is classified as permanent when its use for nonagricultural purposes is prohibited. Ordinary farmland can be used for other purposes in certain circumstances.
The notices released in July said government officials who fail to stop illegal activities or are derelict in their duties should bear administrative responsibility. Government officials who grant permission for the illegal use of the farmland or land transfers that result in economic losses of 300,000 yuan ($42,850) or more will face criminal prosecution.
China will establish a national territorial planning system by the end of this year. It will be guided by three "red lines", one of which will encompass about 103 million hectares of permanent farmland with the aim of boosting safety, improving quality and preventing nonagricultural use.
From ChinaDaily